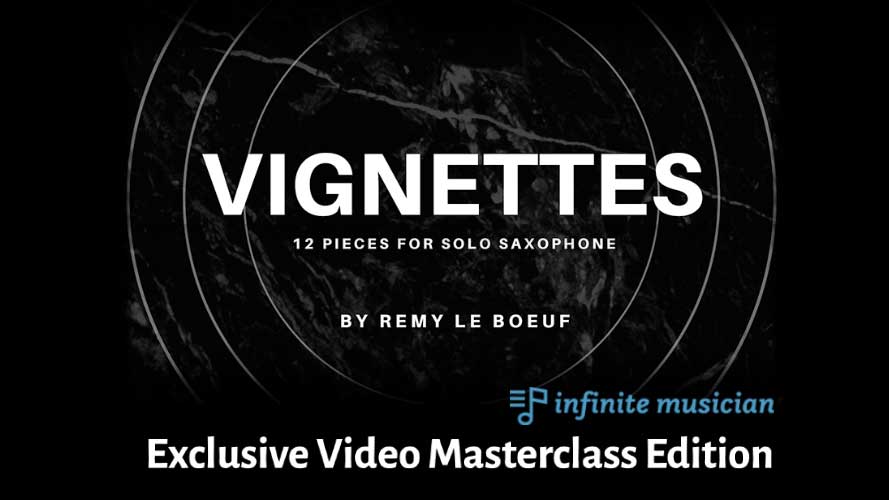 Vignettes is a collection of 12 short pieces composed by critically-acclaimed, Grammy-nominated saxophonist and composer, Remy Le Bouef.
1-Minute Sneak-Peek from the Master Class Video...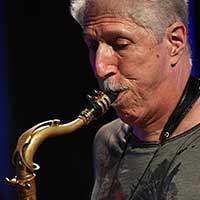 "Remy Le Boeuf has assembled a collection of dynamic and fascinating pieces for saxophone that join the ranks of great solo voice writing. He is a fantastic player and an equally adept and creative composer."
- Bob Mintzer, Grammy winning band leader and saxophonist with the Yellowjackets, James Taylor, Bobby McFerrin, Art Blakey, Jaco Pastorius, and countless others.
Recital-Ready Practice Material
This collection was commissioned by a consortium of world-class saxophone performers and educators who tasked Remy with the challenge of creating music that would serve not only as highly effective practice material, but also as a set of compositions rich and compelling enough to stand on their own as concert and recital repertoire.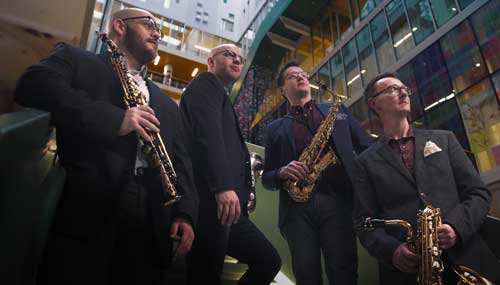 The Coalescent Quartet, part of the consortium that commissioned Vignettes
A Creatively-Rewarding Foundation for an Entire Practice Routine
The vignettes are written to be interpreted in a range of styles, and function as etudes in that many focus on particular challenges or skills, including:
circular breathing
altissimo
odd time signatures
overtones
speed
flexibility
articulation
syncopation
endurance
dynamic contrast
melodic patterns
While written on the alto, the vignettes can be performed on all saxophones.
They are intended for the advanced player, but can also be highly effective for the ambitious mid-level player.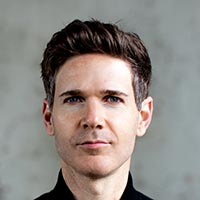 "Remy is one of my favorite composers around and a fantastic saxophonist. I had the pleasure of playing through his Vignettes book and it is a great collection of challenging and creative material. Lots to work on and explore!"
- Ben Wendel, Grammy nominated saxophonist and composer with Antonio Sanchez, Gerald Clayton, Eric Harland, The Artist Formerly Known as Prince, and many others.
Much More Than Just an Ebook
As mentioned previously, with this exclusive video master class edition of Vignettes, we've taken what started out as an ebook, and turned it into a comprehensive course of study. In fact, thanks to the wide array of challenges that this collection offers, this program by itself could serve as the bulk of a regular practice routine for weeks or months to come, perhaps even longer.
What's Included
Vignettes ebook in easily readable and printable PDF format
11 powerful and easily-digestible instructional videos (not available anywhere else) with Remy's guidance on how to best understand and interpret the music on the page (just over 35 minutes)
5 Demonstration videos featuring Remy performing selected vignettes from the ebook
The Vignettes ebook embedded on the website so that you can clearly view the sheet music in "full screen" mode on any device - with nothing to install or download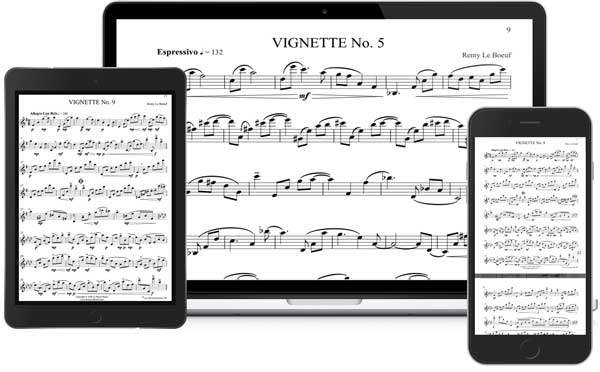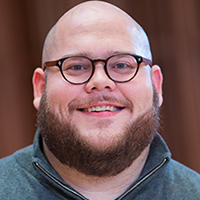 "Remy has provided saxophonists with an incredible body of work that is as innovative as it is valuable."
- Nathan B. Bogert, Saxophone Professor, Ball State University School of Music
A Sampling of What You'll Be Playing....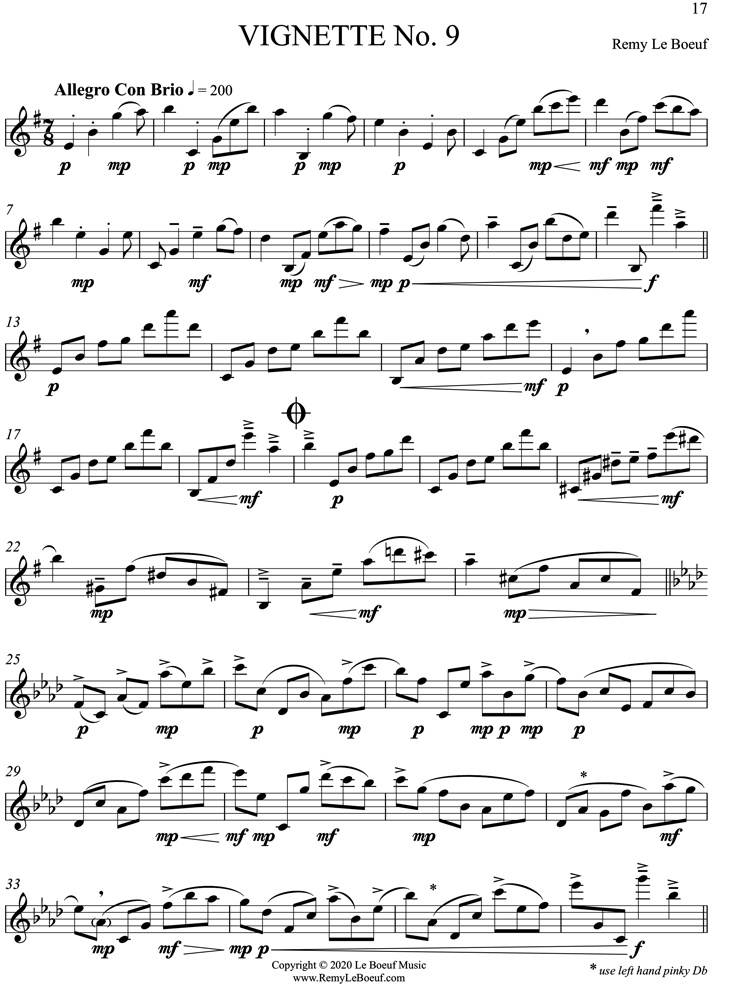 Course Curriculum
E-Book
Available in days
days after you purchase the program
Selected Demonstration Videos
Available in days
days after you purchase the program
Your Instructor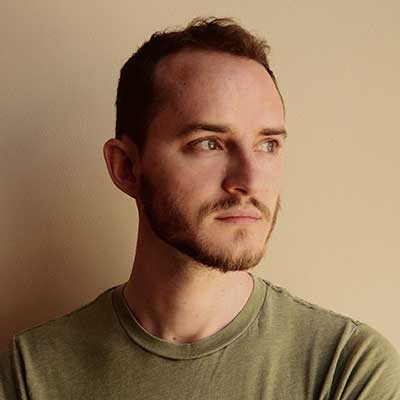 Remy Le Boeuf is a Grammy-nominated composer and saxophonist whose music is rooted in the jazz tradition and overlaps into the contemporary classical realm, drawing on various influences from Aaron Copland to Charles Mingus. Le Boeuf is also the founder and director of the Assembly of Shadows jazz orchestra.  He has worked with a range of collaborators including the Jazz at Lincoln Center Orchestra with Wynton Marsalis, HAIM, JACK Quartet, Knower, Linda Oh, and his identical twin brother Pascal, with whom he co-leads the Grammy-nominated ensemble, Le Boeuf Brothers. 
Hailed by the New York Times for its "overwhelming beauty," Le Boeuf's latest release for jazz orchestra, Assembly of Shadows (2019), brings together haunting cinematic textures and melody-driven themes. Praised by the San Francisco Chronicle for its "radiant, uncluttered beauty," Le Boeuf's prior release, Light as a Word (2019), features a sextet of Le Boeuf's long-time collaborators including Walter Smith III, Aaron Parks, Charles Altura, Matt Brewer, and Peter Kronreif. 
Le Boeuf often employs literary elements to fuel his compositions as in his recent collaborative album imaginist (2016)—a collaboration between Le Boeuf Brothers and JACK Quartet.  The term "imaginist" refers to the early 20th century Russian poetry movement characterized by sequences of arresting images and long chains of metaphors.  Imaginist is structured to unfold like a book. Past Le Boeuf Brothers projects include House Without A Door (2009), In Praise of Shadows (2011), and Remixed (2013).
Le Boeuf has received commissions and awards from SFJAZZ, Chamber Music America, The Jerome Foundation, Jazz at Lincoln Center Orchestra, Symphonic Jazz Orchestra, Copland House, Copland Fund, National Foundation for Advancement in the Arts, American Composers Forum, Cafe Royal Cultural Foundation, New York Youth Symphony, University of Denver, Keio University, BMI, and the ASCAP Foundation.
Le Boeuf holds bachelor's and master's degrees in saxophone performance from the Manhattan School of Music. He currently lives in Brooklyn, NY, where he teaches at the Manhattan School of Music as a saxophone and composition instructor in the Precollege and MSM Summer programs. Le Boeuf is also an adjunct professor of jazz composition at the University of South Florida.